Welcome back to your monthly report of game news, where I do my best to compile everything into one convenient ad-free place, so you don't have to worry about the pesky cracks that info can fall through at other publications!
Thanks and credit for the banner image as always goes to the Avocado's one and only Space Robot! Thanks to LibraryLass for her latest edition of our signature Keigh3 logo!
Due to just how eventful this month was, I have temporarily reformatted to ABK Updates at the very bottom and full digital events at the start of their respective dates.
Boy, I really fucked up forgetting to mention these first two last time. My apologies.
May 24th: The PlayStation Showcase featured the additional reveal of Revenant Hill, in development from worker co op The Glory Society and Night in the Woods creators Scott Benson and Bethany Hockenberry. Telling the story of a lost barn cat surviving during the early 20th century, Revenant Hill is coming to PC and PS4/5 in the future.
May 30th: Separately from the PS Showcase for some reason, Ratchet and Clank: Rift Apart was announced as PlayStation's next current gen PC port, releasing on Steam in July 2023.
June 6th: Longtime Nintendo partner Grezzo (Link's Awakening/Ocarina/Majora's Remakes, EverOasis) announced their new self-published Apple Arcade exclusive Jet Dragon, an airborne racer which launched June 16th.
Like any good fighting game, Street Fighter 6 should have a long tail for a long lifespan, but its launch week already outpaced Street Fighter 5's both critically and commercially with more than a million copies sold.
June 7th: Guerrilla Collective 2023 Highlights included: Crackshell's decade in the making open world action RPG sequel Hammerwatch 2 showed off gameplay after its recent reveal and announced an August 15th PC launch followed by all cross gen consoles before the end of the year. Panstasz set a new 1.0 launch date for their cosmic horror RPG World of Horror, October 19th for PC, Switch, PS4/5. Pro wrestling indie RPG WrestleQuest set its new launch date of August 8th for all platforms. The Season's Greetings DLC for narrative adventure Lake was revealed, launching Holiday 2023. Bye Sweet Carole is a fairy tale horror game revealed by Remothered series developers Chris Derrill and Little Sewing Machine, coming 2024 to all platforms.
June 8th:
Summer Game Fest Opening Showcase/Kickoff
The fourth and latest edition of Geoff Keighley's Summer Game Fest was its most successful yet by most metrics, with SGF 2024's schedule announced almost immediately after its airing. The showcase opened with a reveal from Ubisoft: side scrolling Metroidvania Prince of Persia: The Lost Crown, shown with full gameplay, launching January 18th 2024 for PC, Switch, Xbox One/Series, and PS4/5. This game was leaked by Tom Henderson last year as a response to the indie Metroidvania craze and a fresh step forward for the series while the Sands of Time Remake still flounders.
As promised last Roundup, NetherRealm gave an extended gameplay reveal for Mortal Kombat 1 as one of SGF's highlights. The cornucopia of story cutscenes and combat featured every previously confirmed full fighter in the now known total base roster of 24, a newly not blind Kenshi revealed as a full fighter, the new addition of day and night variants for stages, and a slick fatality montage. There were a lot of details for the new Kameo Fighters between the trailer and the extra Ed Boon narrated demo: classically costumed Sonya Blade, Kano, Jax, Sub-Zero, Scorpion, Kung Lao, Goro, and Stryker were all shown as Kameos, meaning that characters can be exclusively Kameos (Stryker is confirmed Kameo-only) or be full fighters and Kameos simultaneously. Kameos are activated with a single button and can contribute to combo extenders, combo breakers, and Fatal Blows.
Later, MK1's Switch port developers were confirmed by the game's official FAQ page: Shiver Entertainment, who ported MK11, is the lead dev, while Saber Interactive, a massive company of its own (roughly 3000 employees) which recently became an Embracer Group subsidiary, is providing support development. Saber is currently developing the Star Wars KOTOR Remake among other projects, and has a track record on Switch led by the Witcher 3 port. Also, Ed Boon revealed in a PlayStation Blog post that after six straight games the Krypt system is being officially replaced. The end of the Krypt system was accurately leaked by a Reddit post which also potentially leaked much of the base roster.
Grinding Gear Games' Path of Exile 2 returned with a gameplay trailer after 2 years, showcasing an iteration on the free online RPG original, ending on "Find out more July 28th." Capcom revealed the first crossover DLC (Capcom Collab 1) for its upcoming shooter Exoprimal, featuring Robot Ryu and Robot Guile from SF6 punching dionsaurs, coming Fall 2023. Dead by Daylight had its Nicolas Cage DLC's release date (July 25th) announced, with gameplay footage, and Nic appearing on stage. netflix had a The Witcher Season 3 Part 1 trailer with a June 29th premiere date, followed by monster-hunting FPS Witchfire's new trailer, re-announcing its Early Access launch as September 2023 I'm just going to repost what I had to say about Witchfire at last year's SGF: Witchfire is directed by The Vanishing of Ethan Carter's Adrian Chmielarz, a pro-Gamergate, pro-crunch reactionary jackass. Also, that game was announced in 2017 and is only now starting early access six years later.
Korean publisher Smilegate's biggest franchise is the shooter Crossfire, which failed to emerge in the US last year with the Xbox exclusive CrossfireX. It then premiered a new PSVR2-based spinoff entry, Crossfire: Sierra Squad VR at the latest PS Showcase, which the reappeared at SGF where an August 2023 release window and Michael B Jordan as its lead actor were revealed. Gunfire Games and Embracer had another new trailer for shooter soulslike Remnant 2 focused on co op gameplay footage, and announcing an imminent July 25th 2023 launch for PC, Series S|X and PS5.
Sega brought out a huge reveal with the first brand new all side-scrolling/2(.5)D Sonic the Hedgehog in six years, Sonic Superstars coming Fall 2023 to PC, Switch, PS4/5, and Xbox One/Series. The game features local 4 player co op with playable Tails, Knuckles, and Amy. Sega confirmed alongside the game's reveal what I'd been reporting for years, that the publisher did negotiate with Christian Whitehead and co. about a direct Sonic Mania sequel, and those developers chose to walk away, but production on the next 2D Sonic endured through that obstacle. Instead, Superstars is developed by original co-creator Naoto Ohshima (his first time working on the series since 1998's Sonic Adventure) and his studio Arzest in their biggest project since Balan Wonderworld, now with 100% less abusive convicted criminal Yuji Naka, with supervision by Takashi Iizuka. The game implements new mechanics like foreground-background interaction a la Retro's Donkey Kong games, but is also designed for a casual family audience to balance out Frontiers' more hardcore-oriented design. This is one of only a few full price 2D games in recent memory, and I bid it good luck competing with Metroid Dread.
Mihoyo revealed a new character for the recently launched Honkai Star Rail and announced that a PS5 port will arrive in Late 2023. Round8 premiered a new trailer delaying Lies of P's launch from August to September 19th, and shadowdropping a current gen exclusive demo. Badai Namco revealed Sand Land, an open world Unreal 5 action RPG adapting a lesser known work by legendary mangaka Akira Toriyama, and a second partnership with developer Ilca after One Piece Odyssey. It's coming to PC, PS4/5, and Xbox Series S|X. Annapurna Interactive announced the return of their dedicated Showcase for June 29th. Several rapid fire appearances blurred the edge between official trailers and commercial breaks in classic Keigh-3 fashion: FTP games Throne and Liberty from Amazon and Warhaven from Nexon, Party Animals, Dying Light 2's DLC, Crash Team Rumble Season 1, and Samsung Cloud Gaming.
Alan Wake 2 had a raw gameplay trailer showing survival horror bona fides and a closed-door demo which saw raucous acclaim. Saber Interactive and Focus Entertainment had another new gameplay trailer for Space Marine 2 ahead of a scheduled Winter 2023 launch, revealing full four player co op support in the campaign. Indie developer Brave at Night revealed their second game, Yes, Your Grace (2): Snowfall, coming 2024 to PC, Xbox, and Switch. Like its predecessor from 2020 which I fell in love with as my very first Game pass game, this is an RPG with strategy and management sim elements telling the story of a struggling royal family and their hard decisions. Saber/Focus revealed another collaboration, John Carpenter's Toxic Commando, a pulpy zombie horde fighting FPS coming 2024 to PC, PS5, Xbox Series S|X, produced by the eponymous genre filmmaking legend and known video game lover himself.
Baldur's Gate 3 had its latest trailer revealing both Beloved Character Actor Jason Isaacs TM as new villain Gortash and the city of Baldur's Gate itself in its shiny new next gen form. This was followed by less exciting fantasy titles, like Black Desert Online DLC, or licensed survival game LOTR: Return to Moria, which is coming Fall 2023 to PC, PS5, and Series S|X. Pokémon with Guns Palworld had its first trailer in a while since it first went viral, announcing a January 2024 Early Access release. Oh yeah, and Spider-Man 2 co-director Brian Intihar suddenly appeared to show off cover art, concept art, costumes, and most importantly, announce the launch date for the game! In a seeming delay out of September away from Starfield and into an even more crowded release window, Marvel's Spider-Man 2 will launch for PS5 on October 20th 2023.
Don't Nod and their new action RPG Banishers: Ghosts of New Eden returned from Game Awards 2022 for a second trailer showing dramatic story choices and switching between two protagonists. It's set to come out on PC, PS5, and Xbox Series S|X by the "end of 2023."Sega and Ryu Ga Gotoku premiered the Like a Dragon Gaiden: The Man with No Name gameplay reveal trailer, confirming the details leaked earlier that week. This spinoff interquel game returns to real time brawler gameplay, follows Kiryu acting as a secret agent that employs not only his Yakuza fighting style but the all new precise, gadget-driven Agent style of combat, and it will launch worldwide on November 9th 2023 as a digital-exclusive for PC, PS4/5, and Xbox One/Series. Yes, after Alan Wake 2, this is the year's second AAA digital only game from a developer who had always done physical releases before. Yes, it scares me too.
Post-independence from Sony, post-trial Quantic Dream expanded its publishing label by revealing two new games, underwater exploration narrative game Under the Waves and top down time travel hack n slash Lysfanga The Time Shift Warrior. The former is scheduled to launch August 29th for PC, Xbox One/Series and PS4/5, while the latter will release for PC by the end of the year. The series of regrettable trailers did not let up, with the Porsche 75th anniversary promotional Xbox, another pair of exploitative free to play games in King Arthur: Legends Rise and Wayfinder, and a trailer of new maps for Call of Duty: Modern Warfare II's post launch Season 4. I was quite surprised that we still haven't see the new full 2023 release for the series yet, the one that's an expanded Modern Warfare DLC. Switch exclusive indie farm game FaeFarm newly confirmed that it will also launch on PC upon announcing a September 8th release date.
Marvel Snap announced a new major update which has since already released, featuring competitive race mode of sorts Conquest Mode, accompanied by a new Snap-themed ProZD sketch. Paradox Interactive had a whole block of new games: a fast paced multiplayer Stellaris spinoff, Stellaris Nexus; the self explanatory Space Trash Scavenger coming to Steam Early Access soon; and Star trek Infinite. Sweet Tooth voice actor Will Arnett presented the second teaser for the Peacock Twisted Metal series, featuring the first look at his aforementioned main villain role. Despite a tremendous writers room and cast, it doesn't look promising. EA, Ascendant Studios, and the game's lead actor had another new Immortals of Aveum gameplay trailer showing off new environments. The magic shooter was recently delayed by a month for further polish, so it's now releasing August 22nd. Fortnite had a new launch trailer for its latest season, featuring Unreal Editor, the Transformers, and rideable raptors.
For the sake of sheer absurd, industry self parodic comedy, it's a shame that the fakeout trailer for mobile FF7 collection Final Fantasy 7: Ever Crisis, announcing a July closed beta test, was actually ultimately followed by a real full trailer for Remake sequel Final Fantasy 7 Rebirth. As the Closer for Summer Game Fest's most (financially, at least) successful year yet, FF7 Rebirth had an extensive gameplay reveal, showcasing the remake trilogy's journey outside of Midgar, its continued twists on the established narrative, and its updated launch window of Early 2024 ("on two discs") for PlayStation 5.
Day of the Devs
Wandersong and Chicory creator Greg Lobanov officially revealed his third game, Beastieball, after teasing it last year. Beastieball is a turn based RPG about volleyball inspired heavily by Pokémon, and it's set to launch on PC in 2024. A new gameplay trailer for Heart Machine's Hyper Light Breaker debuted. First person narrative adventure Simpler Times is promised to be 'coming soon' from developer stoneskip and publisher iam8bit, and is very much in the vein of Unpacking.
Unique puzzle game Viewfinder saw a new gameplay trailer announcing its PS5 launch date as July 18th, with a shadowdropped demo. Visually striking 2D shooter Hauntii was revealed for a launch on PC and consoles in 2024. "Retail simulator"/management sim Cart Life is unexpectedly returning after it was lost a decade ago, coming to PC and consoles in 2023 from a team carefully expanding and reviving it in tribute to its original creator. Helskate was revealed as a roguelike skateboarding game set to release in early access next year. Puzzle game Henry Halfhead had its second trailer after a reveal earlier this year from Bamerang developer Lululu Entertainment.
After being revealed at last year's Xbox Showcase, Cocoon returns as one of the other successors to Playdead games, coming to PC and consoles later this year. Summerhill was revealed in a teaser from Alto's Adventure devs Team Alto as a peaceful narrative adventure about a shepherd and his dog. Returning from a PlayStation State of Play reveal last year, dating sim dungeon crawler Eternights was announced to be launching September 21st 2023 for PS4/5 and PC. Retro Gadgets was released in Early Access on Steam as a platform for guiding engineers in making their own lofi handheld gaming devices. Puzzle game Mars First Logistics was announced to be releasing in Early Access before the end of the month, June 22nd. Pirate narrative adventure game Saltsea Chronicles was revealed for a 2023 launch.
Devolver Direct
In the preshow of the latest entry in Devolver Digital's saga, longtime company friend Suda51 and his developer Grasshopper Manufacture announced one of the smaller of their five current projects: Shadows of the Damned Remastered, which is "probably coming to all current platforms," and a Grasshopper Direct for the next week, which ultimately was just a brief comedy video without real information beyond the briefest glimpse at another upcoming game.
Meanwhile, Devolver itself tackled AI generated 'art' in its latest longform sketch, and news-wise started with a new trailer for Galvanic's co op survival game Wizard with a Gun which announced a free timelimited demo on Steam ahead of the game's launch later in 2023. Wizard with a Gun will hit PC, PS5, and Xbox Series at launch and Switch at a later time. Then there was the gameplay reveal trailer for The Talos Principle 2 after it was first announced at last month's PlayStation Showcase. A whopping six years after Getting Over It and four after Ape Out, Bennet Foddy, Maxi Boch, and Gabe Cuzzillo revealed their next game together, Baby Steps. It's coming in 2024 to PC and PS5, and building on the ideas Getting Over It and QWOP with complex walking physics through a large world. Lastly, Human Fall Flat 2 from No Brakes Games was revealed with a cinematic teaser, promising a brand new physics engine and expanded gameplay for the party-favorite puzzle platformer.
In other news from June 8th: Through a PlayStation store leak followed almost immediately by the official announcement, Team17 and The Game Kitchen set the launch date for their 2D Soulslike Blasphemous 2. It will launch for PC, Switch, PS5, and Xbox Series on August 24th, followed by PS4 and Xbox One versions later in 2023. Hit asymmetric multiplayer horror Friday the 13th was announced to be delisting from sale on December 31st 2023 due to full license expiration; while it's still on sale, its price has been severely reduced, its features adjusted, and it will remain playable for existing owners through at least the end of 2024. Another entry in this same niche, last year's Ghostbusters: Spirits Unleashed, had a Switch port announced to release later in 2023.
June 9th: Access-Ability Summer Showcase – Laura Kate Dale's first annual Access Ability Summer Showcase highlighted accessibility features in 15 current and upcoming games:
Mythwrecked
Skye Tales
Bossgame: The Final Boss is My Heart
SpaceBoat
Sniper Elite 5
A Knight in the Attic
Upheaval
Princess Farmer
Botany Manor
Brok the InvestiGator
Himig
Solace State
Pine Hearts
Blinnk and the Vacuum of Space
Stories of Blossom
The Tribeca Games Spotlight featured: The gameplay reveal of A Highland Song, the latest game from Inkle, the developers of Heaven's Vault and Overboard! The game is set in the Scottish Highlands as a narrative adventure and 2D platformer about a young girl on the run. KO_OP's long awaited apocalyptic coming of age visual novel with anthro-dinos Goodbye Volcano High, which launches August 29th 2023 for PS4/5 and PC. Developed by Rundisc and published by Focus, Chants of Sennaar is an adventure game inspired by the Tower of Babel, in which puzzles, stealth, and even actual language translation must be navigated to bridge the gap between different cultures. The game will launch September 5th 2023 for PC, Switch, PS4, and Xbox One with BC support on current gen consoles.
Mezan Studios' debut game Nightscape is a sidescrolling puzzle game about astronomy and Arabian culture. David Gaider's Stray Gods: The Roleplaying Musical, which I covered last month too, confirmed its console releases, PS4/5, Xbox One/Series, and Switch, all part of Day One launch. Deck Nine's The Expanse: A Telltale Series appeared with a new story trailer and demo ahead of its July launch. And lastly, Despelote, triumphantly returning from 2021's Day of the Devs! The first person narrative adventure in a strong visual style is from Ecuadorian developers Julian Cordero and Sebastian Valbuena. It was newly revealed as set to launch in 2024 on PC, Xbox Series/Game Pass, and PS5, and picked up by publisher Panic in their first release since Untitled Goose Game and the Playdate console.
My most anticipated game from last year's Tribeca Festival, Out of the Blue's American Arcadia, has still yet to launch thanks to the development of a Call of the Sea VR edition released earlier this year.
June 10th:
Wholesome Direct 2023 took a cue from Indie World and opened with Mineko's Night Market, followed by a teahouse sim starring kitties called Pekoe which has since released in Steam Early Access. Next was a visual novel with some very familiar aesthetic and mechanics: Spirit Swap: Lo Fi Beats to Match-3 To, and the reveal of Button City: Soccer Days, a sports action RPG sequel to the narrative adventure Button City, coming 2024. The shadowdropped Steam launch of RPG Frogsong then ended the 'preshow'. I Am A Caterpillar was revealed, a non-violent 3D puzzle platformer about a caterpillar fleeing metamorphosis. Upcoming sim games Bubblegum Galaxy, Sticky Business, Station to Station all announced new Steam demos. Moonstone Island combines Stardew Valley, deckbuilding, and Pokémon when it comes to PC and Switch this year. The Palace on the Hill is a management sim and narrative adventure set in India, it and neko atsume with bunnies, Usagi Shima, will arrive on PC and mobile by September 1st. Karma Zoo is a 2D co op platformer about animals coming to PC, Switch, Xbox Series, and PS5 this year.
Flutter Away, a peaceful first person exploration of the Amazon rainforest, was announced to be launching August 3rd for PC and Switch. A management game about restoring and documenting a wetland preserve, Kamaeru: A Frog Refuge, had a new trailer and announced that Armor Games was secured as its publisher. Baladins was announced for release on PC and consoles in Early 2024, as a dynamic multiplayer classical RPG, followed by the now released Cupboards and Drawers DLC for A Little to the Left. Both Beastieball and Henry Halfhead reappeared from Day of the Devs, the latter to further showcase its 3D body hopping puzzles. Lakeburg Legacies is a matchmaking game announced to launch July 20th and Gourdlets is a city builder coming soon. Loftia was revealed ahead of its Kickstarter campaign, a multiplayer 3D sim about building urban gardens and more sustainable communities. 3D adventure game Smushi Come Home was shadowdropped for PC and Switch, and hotly anticipated narrative cooking game Venba finally had its multiplatform launch date revealed as July 31st.
2D platformer Little Nemo and the Guardians of Slumberland had a new gameplay trailer and limited time demo, while garden games Garden Witch Life, Grimoire and Groves, and Orange Season also had new trailers before the full reveal of another, Garden Buddies coming this summer to PC and Switch. Climbing game Surmount announced a Steam demo and showed off its nice character customization. A visually and narratively complex 2D platformer, Everdeep Aurora, was revealed for a 2024 release on PC and Switch, followed by fox monk adventure game Kibu by the developers of Omno. Magical Delicacy is a 2D platformer and sim game coming to PC, Xbox One, Xbox Series S|X, and Game Pass. Little Friends: Puppy Island came at the long absence of Nintendogs by launching on Switch. Puzzle adventure The Guardian of Nature was revealed followed by Townseek, which launches Early 2024 for PC ahead of later console releases. Manitas Kitchen will launch in October to tell the story of a T Rex trying to overcome her little arms to become a great pizza chef. A mobile port of Unpacking was announced.
Botany Manor returned with a demo, followed by Solarpunk, and blacksmithing narrative game While the Iron's Hot, which is coming Late 2023 to PC, Switch, PS4/5, Xbox One/Series. Wylde Flowers, Snufkin: Melody of Moominvalley, and inkle's A Highland Song all made quick reappearances. Some highlights from the wrap up: Sushi Ben is a VR sushi game, Wood & Wonder is a toycraft god game, Sopa is a 3D latino narrative adventure and Xbox timed exclusive coming this year, and Tracks of Thought is a train-set deckbuilder RPG coming Early 2024.
Future Games Show Summer 2023
June 11th:
Xbox Games Showcase + Starfield Developer Direct
Three years after its cinematic reveal teaser and longer since it first leaked, PlayGround Games' Fable Reboot triumphantly returned as the opener of the annual showcase. More than a decade on from the last Fable RPG, this gameplay reveal trailer formally introduced the series' new era by highlighting its updated take on series classic elements in a fast montage, from aggressively British humor to character choices and social interactions, third person blended combat, and the Balverine monster. It also gives a first hint at the game's story, as Albion makes contact with giants via fairytale beanstalk, giants played by Darkplace's Richard Ayoade no less. There's still no official release window as of yet for Xbox's biggest of several first party RPGs, but at least some of the other A listers are finally almost ready in the meantime.
Five years after the struggles of We Happy Few, Compulsion Games finally revealed their first game as a first party Xbox studio: featuring a stop motion visual style and Magical Realist + Southern Gothic setting, South of Midnight is a third person magic focused action game coming to PC, Xbox Series S and X, and Game Pass sometime in the future. Player character Hazel's Weaving magic will be used in both combat and traversal, and is described thusly by creative director David Sears: "Hazel's power isn't to simply destroy the monsters that have appeared in the world, but to repair the tears in the world itself that have let them spill through." Compulsion has employed significant consultation resources, including ID@Xbox's James Lewis pulling double duty, for cultural sensitivity and authenticity.
The very first third party game to appear was Ubisoft Massive and Lucasfilm Games' Star Wars: Outlaws, revealed in a cinematic trailer ahead of a promised gameplay reveal at the Ubisoft Forward. It's scheduled to launch in 2024 for PC, Xbox Series S|X, and PS5, and it's got all the usual suspects, a heroine, a scoundrel, a droid, a cute aminal. My more extended coverage for it will appear in the Ubisoft Forward section. Spiritfarer developer Thunder Lotus revealed their next game, 33 Immortals, an action title closer to their debut game Jotun (or Hades) in design than Spiritfarer's life sim with death. This isometric roguelike hack n slash's headlining feature is 33 player co op as players battle to escape a Divine Comedy afterlife together. It's set to launch in 2024 for PC, Xbox Series S|X and Game Pass. Overkill, Starbreeze, and Embracer Group delivered the gameplay reveal trailer for long in the works heist FPS sequel Payday 3, announcing that it will launch September 21st 2023 for PC, Xbox Series S|X and Game Pass, and PS5.
Building off the tremendous success and partnership of last year's remasters and ports, Atlus and Xbox once again announced two new entries in the Persona franchise as Day One Game Pass releases across PC, Xbox One, and Xbox Series S|X, Persona 3 Reload coming Early 2024 and Persona 5 Tactica coming November 17th 2023. Tactica is a cute, cartoony grid based strategy game spinoff coming to PS4/5 and Switch as well. Reload is a full remake of the entry that truly began the series' renaissance in 2006 on the PlayStation 2, it's also coming to PS4 and PS5.
So…I had a whole long winded explainer paragraph preplanned and prewritten about the complicated history of Persona 3 and how it led to fans wanting a remake to give the game a true definitive edition, even after the game just got rereleased earlier this year. Like ask LibraryLass, or Wolfman, I literally wrote it and talked about writing it after the trailer leaked, before the Showcase aired. And then Atlus announced that Reload will only adapt the original P3 and not anything from FES or Portable, not even the very popular female option for the protagonist (unless that's paid DLC later…) I'm not opposed to preserving the very original version of the game at all and actually tend to consider the originals better for P4 and P5. But this is such a misguided way to respond to what was motivating the demand for this remake all along, I'm astonished.
But now back to first party stuff! The 2020 Showcase chickens kept coming home to roost as Obsidian Entertainment finally brought back their first person fantasy action RPG and Pillars of Eternity sequel Avowed, revealing plenty of gameplay and a 2024 launch window for PC, Xbox Series S|X, and Game Pass. A newly discovered remote island is facing a mysterious plague the player character must investigate. Obsidian was finally ready to tell all after years of reports about troubled development: Avowed did indeed undergo a soft reboot, transitioning from Skyrim-chasing to a smaller scale with a focus on how the companion characters interact with the story's events and player's choices. The first companion, Kai, was formally introduced during the Showcase's Extended Edition.
Rare unveiled a new free expansion update to Sea of Thieves, its second Disney partnership in The Legend of Monkey Island, building off the easter egg from the Pirates of the Caribbean DLC by bringing in a full story with classic characters and settings, coming July 20th. With A Plague Tale: Requiem finally launched, Studio Asobo was ready to build and reveal the next major free update for Microsoft Flight Sim, coming in 2024. It features a massive suite of new flight vehicles and activities, including hot air balloons, gliders, firefighting, search and rescue, medical airlifting, agriculture, and much more. Last year's Top Gun DLC will be followed by a new licensed paid DLC come November 3rd featuring the Dune Ornithopter, just in time for Dune Part 2.
Turn 10's Forza Motorsport reappeared with the traditional cars on stage and a gameplay trailer announcing that it will finally launch October 10th 2023 for PC, Xbox Series S|X, and Game Pass. The standard Bethesda block started with a reveal teaser for the next Fallout 76 expansion, Atlantic City, followed by the final trailer for Elder Scrolls Online's Necrom expansion, part of the Shadow Over Morrowind storyline, which released June 20th. Also, if you didn't have time for the full Starfield Direct, Bethesda and Xbox had you covered with a normal length separate story trailer. Lead actress Melina Juergens introduced the segment dedicated to Ninja Theory's Hellblade 2: Senua's Saga, featuring extended story footage and a 2024 launch for PC, Xbox Series S and X, Game Pass.
Sega and Ryu Ga Gotoku offered the reveal trailer for the newly renamed Like a Dragon: Infinite Wealth AKA Like a Dragon/Yakuza 8, a cutscene that starts with bare-assed Ichiban Kasuga lost and confused on a beach revealed to be in America!, The series' new mainline RPG entry is set to launch in Early 2024 for PS4/5, Xbox One/Series S|X, and PC, having newly shed not only the titular Yakuza but sequel numbering and Japan itself as well. Meanwhile, Capcom revealed a brand new IP that is a little bit Onimusha like Exoprimal is a little bit Dino Crisis. Kunitsugami: Path of the Goddess is a third person action strategy game based in Japanese tradition and mythology with bold, psychedelic visuals, set to arrive Day One on Game Pass for PC and Xbox Series S|X, and launch on PS5 as well.
Overwatch 2 had a new trailer doing its best to drum up excitement for the arrival of Story Missions coming August 10th with a first look at the first ever actual in game story cutscenes. The August season 6 update also brings the new big-map Flashpoint mode, Hero Mastery mode, a co op event, and a starter pack for accessing all of Overwatch 2's new heroes so far which is free as a Game Pass perk. These three story missions will cost $15 for "permanent access" followed by additional charges for additional batches of missions, which won't start arriving until 2024.
Don't Nod continued their independent streak and unexpectedly revealed their third game set to launch this year, Jusant coming Fall 2023 to PC, Xbox Series S|X, Game Pass, and PS5. It's an action puzzle game focused on the experience of climbing a great mountain, one trigger for each arm, in a desert world and cute cartoony Unreal artstyle. After Little Orpheus was a big tonal departure for them, Dear Esther/Amnesia: A Machine for Pigs developers The Chinese Room revealed their new narrative horror game, Still Wakes the Deep, which is set on an offshore oil rig. It's scheduled for Early 2024 on PC, Xbox Series S|X, Game Pass, and PS5. Tiny indie dev Microbird and publisher Curve Games revealed Dungeons of Hinterberg, a cel shaded 3D open world action RPG with unique traversal methods and social sim gameplay outside the titular dungeons. It's set for a 2024 launch on PC, Xbox Series S and X, and Game Pass.
Somehow, Keanu returned, to introduce the full gameplay reveal trailer showing off not only Cyberpunk 2077's Phantom Liberty paid expansion but also the additional free major updates arriving in the leadup to and alongside the DLC when it launches September 26th 2023 for PC, Xbox Series S|X, and PS5. After the announcement teaser earlier this year, Cities: Skylines 2 saw its gameplay reveal trailer here from Paradox and Colossal Order, setting an October 24th 2023 launch date for PC, Xbox Series S|X/Game Pass, and PS5.Atlus reappeared with their new Studio Zero team (headed by Persona 3-5's director Katsura Hashino) unexpectedly and fully re-revealing their first game, which was first announced in 2016 as Project ReFantasy, in a sweeping trailer. The turn based fantasy RPG Metaphor Re Fantazio is coming in 2024 to PC, Xbox Series S|X and Game Pass, PS4, and PS5.
Banner Saga developers Stoic revealed their first game outside that series in Towerborne, a live service sidescrolling co op action RPG coming in 2024 as a fully exclusive Xbox-published cross gen game. Lastly, first party developer inXile revealed a new IP coming off Wasteland 3, a Steampunk first person shooter RPG about leading an anti authoritarian revolution through time and space: Clockwork Revolution, which is "Coming in Due Time." As Phil Spencer wrapped up the main show, a hardware reveal arrived, an Xbox Series S revision with 1TB storage and Carbon Black exterior, retailing for $350 at its September 1st launch. Improving internal storage for a digital only console is obviously an overdue but welcome move.
The hourlong Starfield Developer Direct had many details, but most crucially revealed with substance to back it up that the game takes Bethesda back in a decidedly more pure RPG direction again. Bones gets to actually be kinda excited about this game! Starfield will launch September 6th 2023 for PC, Xbox Series S|X, and Game Pass, with a physical release confirmed after some miscommunications, and in a neat first, a release version specifically designed for Game Pass subscribers.
Xbox Showcase Extended Edition info:
The free Arcade Challenge! update for Hi-Fi Rush, featuring new modes, new music, and more, was announced. It launched on July 5th. Nexon's ftp shooter The First Descendant showed Series X gameplay for the first time ahead of its launch this year and its beta in August. Squanch Games revealed the first paid story expansion for High on Life, a horror themed DLC called High on Knife coming later in 2023. The trailer pointedly both featured new talking weapon characters and didn't feature Justin Roiland's previous roles. Paradox and Harebrained Schemes' timed exclusive pulpy tactics game The Lamplighters League was announced to be launching October 3rd for PC and Xbox.
Xbox had plenty for indies as well. The ID@Xbox indie team showcased ten major indie games newly coming to Game Pass this year, soulslike Another Crab's Treasure, pixel RPG Sea of Stars, Switch hit Neon White, Mineko's Night Market, The Wandering Village, Little Kitty Big City, Harold Halibut, Galacticare, and The Book Walker. ID@Xbox also had a montage which highlighted its inaugural sponsors from the new Developer Accelerator diverse indies funding initiative: Drag Her!, Stray Gods, Sonzai, Slime Heroes, Naiad, Spirit Swap, Botany Manor, Despelote, Island of Winds, Psychroma, and El Paso, Elsewhere. Indie title Go Mecha Ball, a side gig from a Moon Studios dev and a roguelike pinball action game, was announced for Xbox and a 2024 launch. Viral ghost hunting game Phasmophobia was announced as coming to Xbox Series S|X, (plus PS5 and PSVR2) in August 2023 with crossplay support. Developer Frame Break had a ew gameplay trailer for their sci fi farm game Lightyear Frontier, which will release in early access on PC and Xbox in 2024.
PC Gaming Show: Highlights from the full show included: Two creative 2D action games, Mariachi Legends, and Christmas Carol anime Metroidvania Ebeneezer and the Invisible World, coming to all cross gen platforms; a surprise sequel reveal for one of last year's most acclaimed games, Citizen Sleeper 2: Starward Vector; a launch trailer for theme park sim Park Beyond; co op Mega Man alike 30XX, a sequel to one of the first Switch games I ever played/first games I played with my partner LibraryLass, was announced to launch for Switch and PC in August; and puppet show survival horror My Friedly Neighborhood was announced to launch July 18th for PC with new cross gen PlayStation and Xbox versions coming later.
In other news from June 11th: Numerous popular subreddits including r/gaming and r/nintendo among more than 6000 total began locking down and going dark in protest of harmful policy changes made by Reddit corporate to kill third party Reddit apps and punish moderators that are working hard at no compensation.
June 12th:
Ubisoft Forward
In an overlong, live on stage E3 throwback event, Prince of Persia: The Lost Crown, several Assassins Creed titles, Avatar: Frontiers of Pandora, The Crew: Motorfest, Skull and Bones, the final DLC featuring Rayman for Mario + Rabbids: Sparks of Hope, Just Dance 2024, Roller Champions, XDefiant, and Star Wars: Outlaws all made appearances during the latest Ubisoft Forward presentation.
The latest entry in the signature dancing rhythm series was revealed with an October 24th 2023 launch date for Switch, PS5, and Xbox Series S|X, and will interact extensively with Just Dance 2023 for its owners. Roller Champions will have crossover event with Sega's Jet Set Radio and Brawlhalla will have Halo DLC characters. XDefiant, an FTP first person shooter which crosses over various Ubisoft IPs*, is set for a crossgen launch in Summer 2023 after a multiplat open beta which took place from June 21st to June 23rd. Hawaii set racing threequel The Crew: Motorfest had its gameplay reveal trailer and is now scheduled for September 14th 2023 as its crossgen launch. Skull and Bones will have a new closed beta in August (25th-28th). The disastrously developed pirate game showed no new gameplay, but did have a five man chorus live performance, for some reason. There's no official current release window, but based on the rest of Ubisoft's current release schedule, it will probably not come out before Early 2024 at very least.
*1Playable teams from The Division, Splinter Cell, Ghost Recon, Far Cry 6, and Watch Dogs will all be featured at launch. The non Tom Clancy series were added in the last year of development after the game was originally announced as a Clancy title.
The second trailer premiered for this new Prince of Persia game, showcasing more Metroidvania gameplay of acquiring new abilities and time manipulation powers to traverse the intersecting world and ultimately rescue the titular Prince. The game was also revealed to have been built with the Switch as its lead platform with 60fps in both handheld and docked, having been initially inspired by games like Hollow Knight and Ori flourishing on Switch. The upcoming AC Mirage appeared with both a story trailer and an 8 minute gameplay demo, while both the mobile game AC: Codename Jade and AC Nexus VR were both featured as well. A cinematic trailer for Jade announced a new closed beta test for the game. Nexus VR had its first full trailer, revealing the past series heroes Ezio, Connor, and Kassandra as its playable characters, ahead of a Late 2023 launch for Meta Quest 2 and 3. Lastly, Avatar: Frontiers of Pandora and Star Wars: Outlaws, both from lead developer Massive Entertainment, had their respective extended gameplay reveals.
Frontiers of Pandora is an open world first person shooter in the vein of Far Cry with a native Navi player character trained in both human firearms and indigenous weapons in a story playable in both single player and co op. It's now scheduled to launch on December 7th 2023 for PC, PS5, and Xbox Series S|X. Star Wars: Outlaws is an open world/galaxy third person shooter and action RPG set in the criminal underworld of the Original Trilogy era, starring freshfaced rogue Kay Vess as the bespoke player character, featuring narrative and dialogue choices, a DeadEye attack right out of Red Dead, stealth gameplay, and space dogfighting. As mentioned above, it's currently set to launch next year, and when I first heard that Ubi Massive was set to ship two AAA open world games within a year of each other, I was extremely skeptical. I'm still skeptical, we all remember the massive plague of delays at Ubisoft for the past several years. But it's at least a little more plausible knowing that each game has practically a baker's dozen worth of support devs alongside the nearly 1000 devs just within Massive.
Capcom Showcase
Capcom largely, annoyingly rehashed its various current projects without much in the way of actual new information for any of them. Here's what true substance there was. Apollo Justice: Ace Attorney Trilogy HD Collection coming Early 2024 to PC, Switch, PS4, and Xbox One. A demo was shadowdropped for the Ghost Trick remaster on all platforms. Exoprimal had a second open beta from June 16th to June 18th. Pragmata had a very brief gameplay reveal teaser followed by another delay announcement, this time indefinitely delaying the game out of 2023. Mobile game Mega Man X Dive is being delisted and replaced with an Offline version on Android and iOS, plus Steam. Some new gameplay info for Dragon's Dogma 2: open world, significant advancements to AI companions ("Pawns") from the first game. Three Pawns at a time for a total party of four, with a customizable lead Pawn and two supporting Pawns.
In other news from June 12th: Redfall received its first major patch a month after a struggling launch, featuring over 80 technical fixes, and Bandai Namco announced that it was delisting Soul Calibur 5 and all DLC from purchase on the PS3 and Xbox 360 stores as of June 19th, a week later. At time of publication, support for SC5's online services have yet to change.
June 13th: A major update for Triangle Strategy was released out of nowhere, adding a whole new chapter, replay features, and some bug fixes.
June 14th: On the heels of the latest Xbox Games Showcase, Outriders developer People Can Fly formally moved on from the live service by announcing that they have closed a deal with Microsoft for Project Maverick, a new AAA action game fully funded and owned by Microsoft as an Xbox exclusive.
With its latest PlayStation Plus update, Sony had two significant announcements: Rogue Legacy 2 would newly debut on June 19th for PS4 and PS5 as a PS Plus Extra game after already releasing on all other platforms, and that the publisher is currently testing PS5 game cloud streaming ahead of an upcoming rollout as a PS Plus Premium feature, and of course with integration in the upcoming Project Q dedicated streaming device, a machine which Sony wants you to believe can't easily be substituted with the stuff that streaming enthusiasts are already using, like your phone and a Backbone controller.
Following Lego 2K Drive's recent launch, South Korea's ratings board leaked the next entry in the series, Lego 2K Goooal, a soccer/football game developed by Sumo Digital and first reported on by VGC last year.
Embracer Group and Deep Silver announced two Dead Island 2 story expansion DLCs in a roadmap presentation following its successful launch, Haus coming Holiday 2023 and SOLA Festival coming mid-2024.
June 15th: RGG Studio Summit: On the evening of June 15th in the West, Ryu Ga Gotoku hosted a dedicated presentation with a new video for each of the studio's next two entries in the Like a Dragon saga, the aforementioned LaD Gaiden: The Man Who Erased his Name and LaD 8/Infinite Wealth. For Gaiden, another new trailer premiered, showcasing more of the series' returning real time beatemup combat in both styles, and revealing a new villain in a neon castle, Homare Ishitani III. For 8, a second cutscene was revealed much like the cutscene that made up the first trailer, in which Ichiban and Kiryu bond and discuss their lives, including developments in Ichiban's relationship with Saeko. Lastly, a Fall 2023 RGG Summit with further info on both games was announced.
Feral Interactive and Crystal Dynamics released a trailer announcing that The Lara Croft Collection, containing the acclaimed isometric spinoffs Guardian of Light and Temple of Osiris, will finally launch for Switch on June 29th.
Developer Videocult and new publisher Akupara announced new releases for their Rain World survival game series: the original Rain World will natively release for PS5 and Xbox One/Series on July 11th, and the Downpour expansion will arrive alongside it on July 11th for Switch, PS4/5, an Xbox One/Series after a PC launch at the beginning of 2023.
June 16th: A year after its 2022 Xbox Games Showcase reveal, Flintlock: The Siege of Dawn has been delayed to 2024 by publisher Kepler Interactive and developer A44 Games (of Ashen) for further polish.
Team17 and developers SMG/DevM announced that their party sim game Moving Out 2 will launch on PC, Switch, Xbox One/Series, and PS4/5 on August 15th.
The Final Transmission concluding story DLC for The Callisto Protocol was announced to release for PS4/5 on June 27th, Xbox and PC and on June 29th. At the same time the game's credits were updated to restore all previously omitted developers' names.
June 19th: After a decade of being a leader in the emergence of the battle pass format in gaming, Valve announced that it is retiring battle passes in Dota 2 because they cost more than they brought in.
Baten Kaitos 1/2 Remasters were officially scheduled to launch September 15th.
June 20th: EA separately announced a restructuring for its development studios, into the formally divided EA Sports and EA Entertainment departments.
June 21st: Summer 2023 Nintendo Direct
Outside of the Direct, Nintendo announced and released five games for the NSO service: Fire Emblem, AKA FE: The Binding Blade, the first international Fire Emblem, for GBA, plus Ghouls n Ghosts, The Revenge of Shinobi, Landstalker, and Crusader of Centy for Genesis. There was also two gameplay trailers for Everybody 1-2-Switch, which debuted the full minigame collection, the smartphone integration, the 100-player mode, and the full name of Horace the Horse Host. The use of minor influencers pampered with an all expense paid trip to Japan was a transparent show of exactly how Nintendo is attempting to manipulate the game's image.
The Direct oddly opened with the first full trailer for both parts of the Pokémon Scarlet and Violet expansion The Hidden Treasure of Area Zero, showing off returning classic creatures, new creatures, and new environments, but no updates to the release windows. Sega's Sonic Superstars and Persona 5 Tactica both returned from recent events, providing further gameplay details on each, with non-Sonic characters' unique features and the integration of classic persona mechanics into the new tactical structure, respectively. Not long after the Direct, both Target and GameStop appeared to leak Superstars' launch date, updating their store listings to October 17th 2023 for all platforms, which puts it i the same week as both PlayStation and Nintendo's upcoming first party flagships.
FTP MMO Palia, which has the now standard farm-action RPG mix, announced that it will arrive o Switch at its exit from early access to 1.0 on PC in Holiday 2023. Beamdog, who previously developed the remasters of various classic RPGs like Baldur's Gate, officially revealed the 1.0 launch of their first full original game MythForce, a multiplayer roguelike multiplayer dungeon crawler themed to 80s Saturday morning cartoons, coming to Switch, Xbox One/Series, PS4/5 later in 2023. The next Splatfest event for Splatoon 3, themed to ice cream flavors, was announced for mid-July. And then the Real Shit TM kicked in.
After a first half of 2023 with no Mario games whatsoever to complement the record breaking Mario movie, a whole slate of Mario franchise games were revealed to highlight the series' core cast and the disparate genres it encompasses, starting with Super Mario RPG Remake, coming November 17th 2023, based on the predecessor to Paper Mario and Super Nintendo swan song Super Mario RPG: Legend of the Seven Stars. That original game has been rereleased to Wii and Wii U Virtual Console, and the SNES Classic, but getting Square Enix to sign off on bringing it into the current generation had proven difficult until the stronger profit return of a full remake was pitched. But that trouble appears to be paying off, as the remake's preorders are already topping sales charts. Yoko Shimomura quickly confirmed her return to compose the remake's soundtrack.
A brand new game starring Princess Peach, the first in nearly 20 years, and a Luigi's Mansion 2: Dark Moon Remaster were also revealed, both in quick teaser trailers for a 2024 launch. The Peach game appears to be sidescrolling 2.5D and feature a stageshow theme. Detective Pikachu Returns, a full game sequel completing the story which was first announced four years ago, saw its first full trailer as well, setting an October 6th 2023 launch and teasing the series' trademark mysteries and charm, including a localized gag about Watch Dogs' "Aiden Pearce's iconic hat."
After first leaking over a year ago, a new Batman: Arkham Trilogy collection was officially revealed, compiling Rocksteady's Arkham Asylum, Arkham City, and Arkham Knight games in a full natively ported release coming to Switch in Fall 2023, returning the series to Nintendo a decade after the Wii U launched with Arkham City Armored Edition. Arkham Origins is once again omitted. Just Dance 2024 made its obligatory appearance. The tactical RPG adaptation of acclaimed indie tabletop game Gloomhaven officially announced its leap from PC to consoles as September 18th 2023 for Switch, PS4/5, and Xbox One/Series. Marvelous-Xseed revealed a new console exclusive? action RPG, Silent Hope, coming October 3rd. It combines classic dungeon crawler elements with a single world to keep tackling, the Abyss, and basebuilding among other things.
A third party montage featured console exclusive Fae Farm, Hot Wheels Unleashed 2: Turbocharged, timed exclusive Overcooked clone Manic Mechanics, and the second of three M+R Sparks of Hope DLCs, The Last Spark Hunter, which shadowdropped alongside a new demo for the struggling sequel. Full console exclusive Dragon Quest Monsters: The Dark Prince as previously teased by Squeenix, was fully revealed with a December 1st 2023 launch date in a beefy trailer, which also had a brief appearance of Solo the DQ4 Hero.
My all time favorite Nintendo series got a very generous block in the Direct, first with an extended gameplay trailer for next month's Pikmin 4. After starting with a narrated tutorial, a great wave of new details hit all at once. After secretly taking place on future Earth for its entire history, Pikmin 4 is taking players inside an abandoned intact human home for the first time. Both Pikmin 2's Treasures and Pikmin 3's fruits return above and underground, with Treasures repairing your ship, expanding its travel radius, and sometimes being a Game Boy Advance SP (rather than the troublesome third party licensed products of Pikmin 2). The underground Caves are more open spaces like the surface levels and have obstacle courses. Rescuing castaway astronauts sometimes requires timed harvest races called Dandori Battles against a mysterious infected astronaut. Base camp is now a more expansive space than just a safe zone thanks to the services provided by fellow astronauts, from craftable gear to leveling up the companion dog's skills. The brand new nighttime expeditions were detailed after the original teaser: the ghostly new Glow Pikmin are the only ones safe to use at night against frenzied monsters attacking the ecosystem. And a mid-day rewind has been newly added to replace fully starting a day over to improve your performance.
Outside promotion and datamining also revealed that it's the second* ever first party Nintendo game built in Unreal Engine 4. Nintendo continued to push the series to new audiences after Pikmin 3 Deluxe's record setting release: a Pikmin 4 demo released on June 28th, but that's not all.
*Yoshi's Crafted World is the previous Unreal 4 first party title. Word is after Engage's use of Unity that the unannounced Fire Emblem: Genealogy of the Holy War Remake will also be in Unreal 4 or 5.
Pikmin 1+2 HD shadowdropped digitally right after the Direct, picking up where Metroid Prime Remastered left off on finally bringing Gamecube masterpieces to Switch. These lightly remastered ports were released as both a bundle and as individual digital games, and the bundle will be physically released on September 22nd 2023. The Pikmin series was in a brutal drought for almost a decade after Pikmin 3 first launched on Wii U, but now the entire mainline series (sorry Hey Pikmin) will all be available on Switch at the same time, in a first for the console's first party catalog. Dataminers quickly provided an assessment of this rerelease: both Pikmin and Pikmin 2 are built in the style of Super Mario Galaxy from Super Mario 3D All Stars, half natively ported and half emulated by the current proprietary Gamecube/Wii emulator Hagi based on the Wii versions.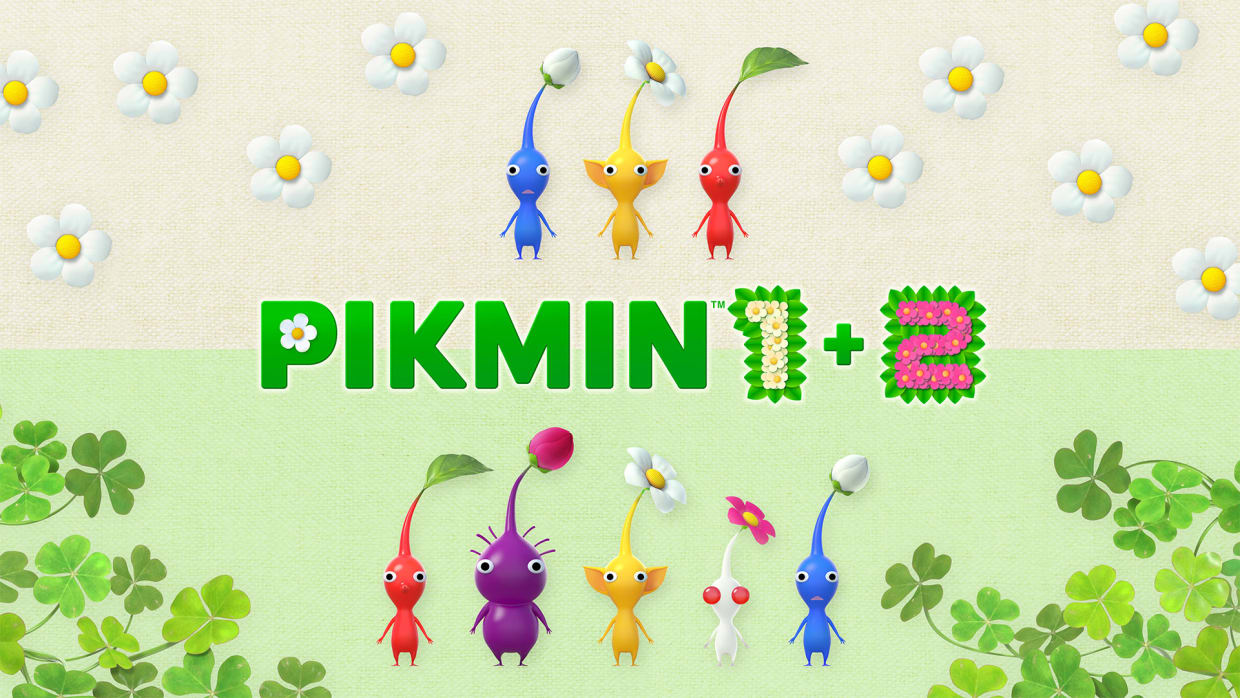 Konami appeared and gave Metal Gear Solid Master Collection Volume 1 its full reveal with gameplay footage, its launch date and platforms, and its extras, officially confirming the series' debut on Switch and return to nintendo 20 years after the Gamecube's Twin Snakes and 10 years after Snake Eater 3D. The package will launch physically and digitally on October 24th 2023 for PC, Switch, PS5, and Xbox Series S|X, available as both a bundle and individual purchases for the three MGS titles. There's a veritable bounty of bonus features: digital graphic novels, strategy guides, screenplays, lore books, and soundtracks. Metal Gear: Snake's Revenge, a third 80s game that Kojima didn't work on, was also newly confirmed for the collection in its first ever rerelease.
This is also MGS3's first ever PC release. Both Batman Arkham Trilogy and MGS Master Collection have very incomplete physical releases on Switch, with only Asylum on cart for the former, and more than 50GB to download for MGS. This has reinstigated debate over the expensiveness of these proprietary cartridges, which is entirely a valid concern for smaller developers, but I can never excuse cost cutting by massive blatantly corrupt megacorps.
After this, the official MGS website updated and accidentally leaked MGS Master Collection Volume 2 and contents within the site data. Volume 2 is indicated to contain Metal Gear Solid 4: Guns of the Patriots, Metal Gear Solid 5: The Phantom Pain, and MGS: Peace Walker, thus bringing MGS4 off the PS3 for the first time ever after 15 years, bringing MGS5 to Switch and latest-gen consoles almost a decade after its original launch, and bringing Peace Walker back for the first time since the previous HD Collection.
For the last third party games, the beloved Vampire Survivors started things off. After two years on PC and a year on Xbox, a Switch port is finally set to release on August 17th alongside a new free update for 4 player local co op on all platforms. There was also the rhythm battle royale about pigeons, Headbangers: Rhythm Royale, returning from a previous event for an October 31st 2023 launch, on all platforms. Amusingly timed so close to the Sonic sequel he turned down, Christian Whitehead and Evening Star studio officially revealed their 3D platformer Penny's Big Breakaway, coming Early 2024 to Switch/PS5/Xbox Series/PC. Star Ocean: The Second Story R was revealed after Square Enix accidentally leaked the logo a week earlier. This remake adapts one of the most acclaimed entries in the Star Ocean RPG series, is set to launch November 2d 2023 for PC, Switch, and PS4/5, and combines 2D character sprites with full 3D environments in a way I really like.
The Mario Kart Booster Course Pass Wave 5 saw its first trailer with the brand new Squeaky Clean Sprint course, and three more new racers, Wiggler, Kamek, and Petey Piranha, ahead of its full reveal and Summer 2023 launch. WarioWare: Move It! was revealed for a November 3rd 2023 launch, themed as more of a party game than its predecessor Get It Together, complete with a motion controls focus and fitness theme, 4 player local co op, and Party Mode with board game courses, and the Japanese title which effectively calls it a direct sequel to the Wii entry Smooth Moves. Nintendo Live West was briefly promoted and new Zelda and Ganondorf TOTK amiibos releasing Holiday 2023 were announced ahead of the huge final reveal. Hey, apropos of nothing, remember how support for Super Mario Maker 2 ended awful quickly?
Super Mario Bros. Wonder, the first brand new straight Mario 2D platformer in more than a decade, debuting a completely new direction and visual style with a focus on the Wonder Seed and Wonder Flower powerups, which introduces unique transformational effects to change Mario or the world around him. Luigi, Peach, Toad, Daisy, and Yoshi all playable in local co op and the super strong Elephant Mario powerup were also revealed. Mainline 2D Mario's timer is removed. The game will launch for Switch on October 20th 2023. This sunset slate continues to be easily nintendo's biggest, most varied, and best in a very long time, but I am ready for what comes next. I hope it's not too far off.
Here's the substantially updated latest schedule for nintendo first party and exclusives releases:
June 2023: Pikmin 1 + 2 HD (September physical), Everybody 1-2-Switch,
July 2023: Pikmin 4, Manic Mechanics,
Fall/Winter 2023: Pokémon Gen 9 DLCs 1 and 2
October 2023: Silent Hope, Detective Pikachu Returns, Super Mario Bros. Wonder,
november 2023: WarioWare: Move It!, Super Mario RPG Remake,
December 2023: Dragon Quest Monsters: The Dark Prince
2024: Luigi's Mansion: Dark Moon Remastered, Untitled Princess Peach game,
Here's other news that happened on June 21st: Xbox ultimately did match the PS5 last year by responding to inflation and announcing that the Series X console's price will be increased in most non-US regions. Xbox Console Game Pass and Game Pass Ultimate are also raising monthly prices on July 6th, with basic XGP going from $10 to $11 and Ultimate going from $15 to $17.
June 22nd: Similar to when E3 2022 reservations at the LA Convention Center were quietly canceled early and indicated what was ahead, as reported by George Yang, the Los Angeles Tourism Board of Commissioners submitted at the latest meeting that E3 2024 and 2025 scheduling and reservations were officially canceled, following in the footsteps of E3 2022 and 2023 ever happening. This was further contextualized by Rebekah Valentine's piece on the ESA's most recent financial statements, which revealed that the ESA took a loss on the all digital E3 2021 by spending at least $6 million and only accruing $3.4 million in revenue from the event, and $2 million in total profit for that fiscal year with all expenses and revenue streams.
Season: A Letter to the Future developer Scavengers Studio was found to have just undergone major layoffs as first observed on LinkedIn before being more widely reported and confirmed by the studio, which explained that the game had sold just 60,000 copies in its first six months, leading to a catastrophic financial state and the choice to downsize from over 40 employees to just 16.
June 23rd: The third annual Sonic Central was much like its predecessors a perfunctory and cross promotional affair. It started with an ad for the already released Sonic Origins Plus, followed by the reveal and release of the second free update for Sonic Frontiers, the Sonic's Birthday Bash DLC. It adds new playable challenges, the Spindash attack, and new game + mode. There was a new cosmetic for Roblox, a trailer for more episodes of Sonic Prime on Netflix, mobile game Sonic Dash being added to Netflix Gaming with a Prime overlay, new gacha characters for mobile games. Sonic DLC for Samba de Amigo: Party Central was announced, featuring cosmetics and Escape from the City and Fist Bump as new songs. A new Sonic Symphony world tour was announced. The Tails V-tuber series will have new episodes. A merchandise montage culminated in Mike Pollock rapping as Eggman to reveal new additions to the Lego Sonic line, plus lego cosmetic DLC for Sonic Superstars. Lastly, brief mention for the Sonic 3 movie and its Knuckles spinoff series, and a link to a full interview of Takashi Iizuka and Naoto Oshima about Superstars' development.
Wall Street Journal reports that Google is testing Youtube as a gaming platform as its next step after the failure of Stadia.
June 25th: The latest release of the past Like a Dragon/Yakuza entries is a series bundle on GOG, which was quickly discovered to have newly omitted dozens of developers from the games' credits, including both the entire Lab42 studio who developed the PC ports, and all recently departed devs, even creator Toshihiro Nagoshi.
June 26th: Rebekah Valentine reported for IGN on the state of Xbox's Perfect Dark Reboot, offering a reconfirmation of previous reports of developmental difficulties at the project, but with a new optimistic bent that things have finally been going well for it since a complete reboot last year, leaving it still years away but at least with a chance to launch in good shape.
An interview with Yuji Horii elaborated on the state of Dragon Quest 12's ongoing development, explaining that it has faced complications and been extended as a result, from the transition to remote work to the new combat system and the exact approach to the more 'adult' themes promised.
Atari announced two new games based on its 1982 'classics', Haunted House and Quantum Recharged, both set to launch this year for PC, Switch, Xbox One/Series, PS4/5, and Atari VCS.
The Meta Quest+ subscription service was revealed and proceeded to launch July 1st. It supports all current Meta hardware and adds two games a month to its undefined initial catalog, at a monthly $8 price/annual $60 price, and $1 trial for July.
June 27th: Maxis and EA had a new Behind the Sims livestream with a look at The Sims 5 during its early development. More complex behavioral routines for NPC Sims, a major expansion to lighting options in buildings, updates to hair customization, and streamlining the social interaction UI were all discussed in the video.
Hi-Rez Studios, developer and publisher of notable FTP live services like Paladins, Smite, and Rogue Company, announced restructuring, layoffs, and a rebrand to Hi-Rez Ventures.
After news first broke last time over the transition of Star Wars: The Old Republic out of Bioware, the deal with Broadsword has now finalized and some of the game's team is sadly being laid off rather than transferred.
Variety exclusively reports that CBS Studios has partnered with Innersloth for an animated series based on the indie developer's signature hit Among Us, created and managed by Owen Dennis of Regular Show and Infinity Train and animated by Titmouse, with no current distributor attached. Innersloth has since confirmed the story. As an ardent Infinity Train fan, I think Dennis can handily bring his penchant both for comedy and strong sci fi atmosphere/setting to what could've been a cheap cash-in.
June 28th: Developer Choice Provisions released a teaser trailer and revealed a new Bit.Trip five years after the launch of Runner3, BIT.TRIP RERUNNER, featuring the Runner Maker mode, with new levels and gameplay "inspired by the original series."
Final Fantasy 16 was announced to have sold 3 million copies in its launch week, putting it slightly behind FF7R1 and significantly behind 15 with their much larger install bases, but ahead of the launches for the PS5's previous full exclusives.
June 29th: Annapurna Interactive Showcase
The third annual presentation opened with Simogo's Lorelei and the Laser Eyes, returning from its reveal at last year's nintendo Parter Showcase. The Sayonara Wild Hearts developer's Switch timed exclusive murder mystery is still focused on atmosphere over gameplay and did not update its release window. Isometric sci fi horror puzzler Cocoon presented more gameplay and announced a September 29th launch date for all platforms. Lushfoil Photography Sim was revealed as exactly what it says on the tin, built in Unreal 5, and coming to PC and console. Japanese indie dev and married couple Marumittu Games had a developer spotlight discussing early development of their debut game. After a very brief tease last year, Katamari creator Keita Takahashi and Uvula fully revealed their next game, to a T, a 3D narrative adventure about a child navigating life trapped in a T-pose. It's set to launch for PC and Xbox One/Series/Game Pass, developed in collaboration with disability/accessibility nonprofit AbleGamers.
Hollow Ponds' co op flyer Flock returned for a gameplay trailer and no new info about its launch for PC, PS4/5, and Xbox One/Series/Game Pass. Nidhogg developer Messhof revealed their new game Ghost Bike, a stylized open world biking adventure game about liberating lost undead souls. It's set to launch in 2024 for PC, Xbox One/Series/Game Pass, and PS4/5. Developer Glass Revolver teased their multiplayer action RPG We Kill Monsters in early development. Mundaun's current gen Xbox and PS ports were announced as available now. Dinogod had a gameplay overview trailer for their mecha game Bounty Star, and delayed its launch to 2024. Stray's release for Xbox One and Series was officially confirmed with a August 10th launch. Hotly anticipated Thirsty Suitors was announced to launch November 2nd for all platforms. The already released Storyteller will be coming to Netflix September 26th. Lastly, the first fully in-house developed Annapurna game was revealed as Blade Runner 2033: Labyrinth, directed by Chelsea Hash of What Remains of Edith Finch.
The consequences of Niantic's financial struggles persisted as the developer closed its LA studio, fired 230 employees, canceled their Marvel game that Disney so proudly announced last year, and ended support for NBA All-World. All other games and projects will continue at this time.
Larian Studios elected to push up the 1.0 launch of Baldur's Gate 3 for PC to August 3rd, a move which was all but confirmed to be in response to the game's previous proximity to Starfield (ad the rest of the Fall 2023 slate). However, the Xbox port still has no release window beyond general 2023, and the PS5 port was delayed to September 6th to put further shine on its 60fps performance goal. IG reporting provided further insight into development of the Xbox port, revealing that Microsoft's own engineers have stepped in for aid rather than compromise the strict Series S support policies. Even more new general info can be found here.
More than a year after it first leaked, first as simply a console RPG, then with many more accurate details, Avatar: The Last Airbender – Quest for Balance was finally officially revealed with a quick trailer from developer Bamtang, publisher GameMill, and Avatar Studios. This 3D action RPG adapts the entire original ATLA story across 18 chapters played in any order, supports two player co op for its 9 classic playable characters, and features cel shaded art, puzzles, side quests, character upgrades, and a more serious mechanical take on elemental bending than its beatemup predecessors. Reportedly, the game takes a What If anthology theme to its storytelling. It will release Fall 2023 for PC, Switch, Xbox One/Series, and PS4/5.
Xbox timed exclusive indie horror Scorn is officially coming to PS5 in Fall 2023 with DualSense support and a physical release.
With Layers of Fear Remake newly launched in the rearview mirror, and Silent Hill 2 Remake up ahead, Bloober Team also decided to release a Cloud Version on Switch for their previous game The Medium.
June 30th: Kotaku's Ethan Gach exclusively reported that Ubisoft has newly greenlit a remake of Assassin's Creed 4: Black Flag by developer Ubisoft Singapore, in the latest ridiculous development for the saga of Skull and Bones. Yes, the same studio is going to send that doomed Black Flag spinoff out to die, and then just make Black Flag again anyway.
Shortly after their stab at a blockbuster became one of the biggest flops of the year, LOTR: Gollum, Daedalic Entertainment decided to end their 15 years of internal development and solely act as a publishing label going forward, laying off 25 workers in the process. Daedalic has published for others' indie titles for almost as log as it made its adventure games, including this year's Inkulinati.
A game called Only Up! went very viral on Twitch streaming, and then just as suddenly was delisted on Steam pending an investigation into a copyright dispute against the game and developer SC-KR (who also work in NFTs), which has been accused of asset theft by a 3D artist.
July 1st: At Anime Expo 2023, Netflix animated series Pokémon Concierge set a December 2023 release date.
July 3rd: Square Enix canceled its Just Cause Mobile game two and a half years after its announcement.
ABK Updates
65% of ABK shareholders voted against a proposed union non-interference policy.
June 22nd: Activision has announced that the original COD Warzone, already scaled down last fall to its current Caldera mode at the launch of Warzone 2.0, will be shut down completely on September 21st, only three a half years after its launch. Warzone Mobile will launch in the same Fall, and a new support branch of COD developer Infinity Ward was established in Barcelona.
With its lawsuit still pending, out of concern that Microsoft will rush to close the Activision Blizzard King acquisition before all of the many current procedural matters are resolved, the US Federal Trade Commission filed in California District Court to seek a temporary restraining order for the next two weeks and preliminary injunction against Microsoft and the proposed deal. The injunction would require that the FTC gets its legal case made in court before the deal can be finalized. This was first reported morning of at CNBC with additional details divulged upon the official publication of the filing. On June 13th, Judge Edward Davila ruled to approve the restraining order and review the injunction in an evidentiary hearing scheduled for June 22nd to June 29th. Judge Jacqueline Corley did preside and as of publication has yet to issue her ruling.
According to its lead attorney Beth Wilkinson, Microsoft will not accept further delays past the established CMA appeal hearing for this month, it will withdraw from the deal and be required to pay Activision a $3 billion breakup fee if the injunction is approved. It and ABK seem to have no willingness whatsoever to deal with the internal FTC trial scheduled for August after their current July 18th finalization deadline.
The start of the hearing brought on a treasure trove of new major information and claims. Xbox opened with an absolute bombshell: accusing Sony's Jim Ryan of privately admitting in personal email, in January 2022 after the deal was first announced, that he had no real doubts about Call of Duty staying on PlayStation, and thus what became the face of the deal's antitrust review was never made in good faith, and potentially a lot of the recent regulatory procedure could be reevaluated. His email with a fellow Sony leader also said that to go for that many established multiplatform series was more about Game Pass then exclusivity, framing Day One Game Pass as no threat up until aggressively doing the opposite suited his agenda better. Jim Ryan defended himself in a pre-recorded heavily edited deposition for the court, arguing that he changed his mind about Xbox owning ABK because of a mid-2022 email from Phil Spencer. These emails undoubtedly were covered by the corporations' respective subpoenas of each other for this case, but you gotta love a trial where the possibility of corporate cyber espionage seems a downright tertiary concern.
The unredacted contents of said email were published later on in the hearing, in which Spencer offered a meager three years extension, but also explicitly outlined release and content parity, and every established ABK game continuing to support PlayStation, to which Ryan responded irrationally, arrogantly, and hypocritically. He contradicted his past statements and beliefs with no rhyme or reason, he demanded that Xbox can't employ the exact same practices and policies PlayStation already does, he demanded all past and future ABK games in perpetuity, he made nonsensical arguments about loophole abuse. Ryan only cares about maintaining his market leadership, he'll say anything to support that end. His Game Pass doomsaying has no basis in how Game Pass actually works for developers. However…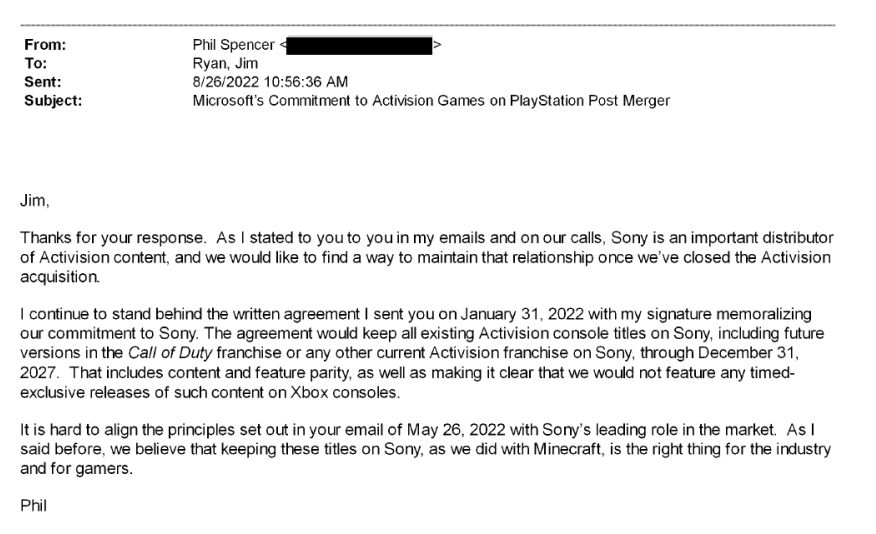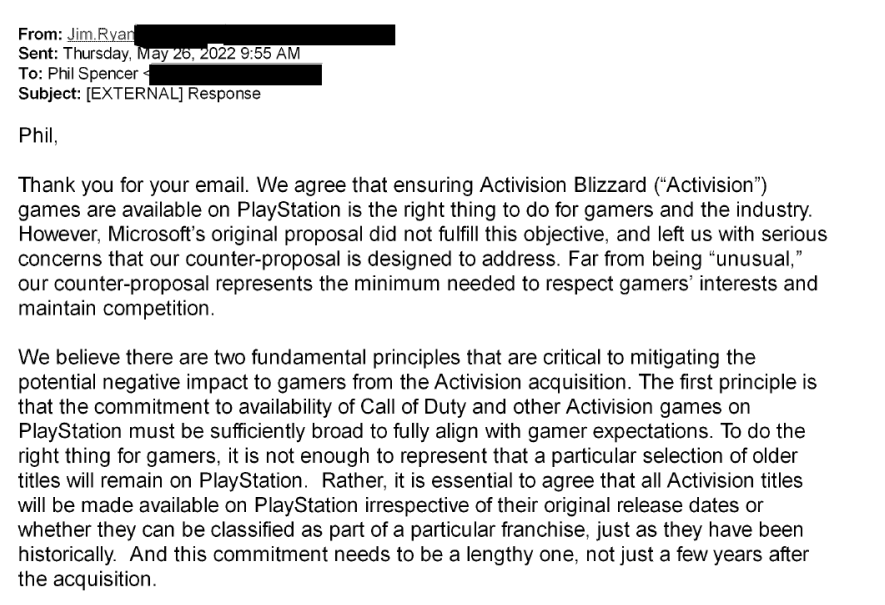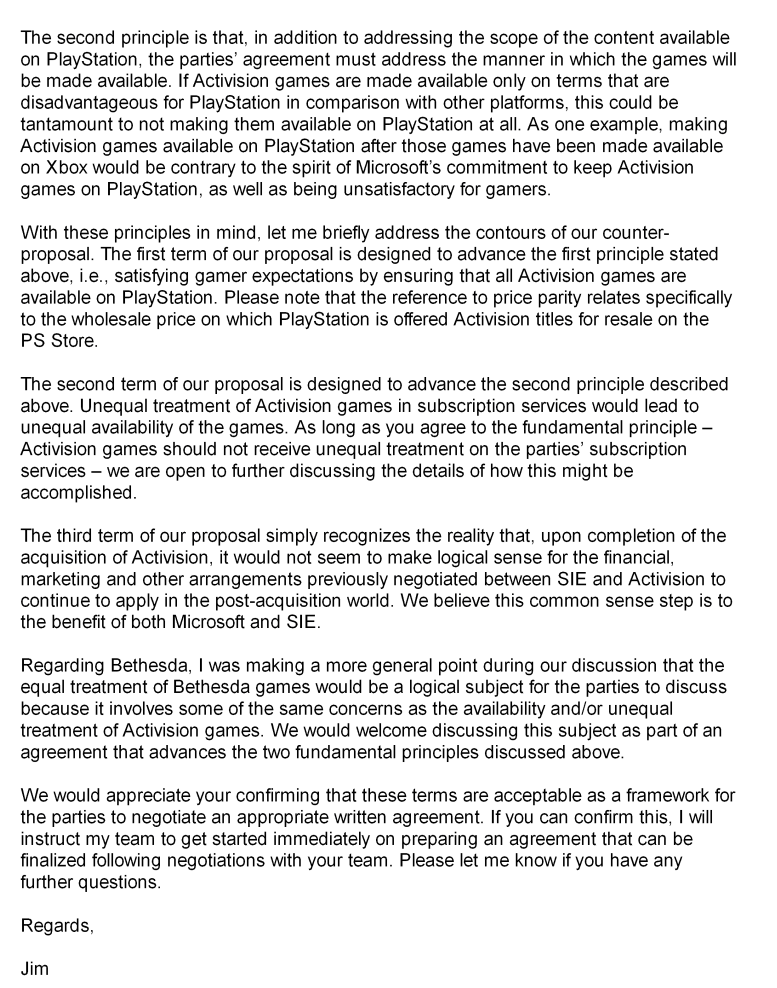 Bethesda's Pete Hines confirmed in testimony that the upcoming Indiana Jones game from Bethesda/ZeniMax and by Wolfenstein developer Machine Games did, like Redfall and Starfield before it, have its PS5 version canceled to make it an Xbox Series S|X console exclusive. Xbox renegotiated with Disney for an agreement to amend the game's publishing contract. Xbox leadership on the stand such as Matt Booty and Phil Spencer consistently claimed that their policy is preexisting series on PlayStation will have the chance to keep being supported on PS5, using this as an excuse for the previous Zenimax exclusives, while contradicting some previous comments by pointing to The Outer Worlds 2 and The Elder Scrolls 6 as already fully owned games that are still on the table for PS5 releases.
A private email from Pete Hines reflected the dissonance of this situation as he showed surprise and frustration at the difference between Bethesda's treatment and Activision's. All this dissonance surrounding Zenimax culminated in the FTC, on the hearing's final day, submitting a record of a late 2021 chat between CFO Tim Stuart and Xbox's Matt Booty: Xbox had spent almost a year on the policy of only new/future Zenimax IPs being exclusive, until Phil Spencer had just abruptly ordered a change to total exclusivity. During his earlier testimony, Phil Spencer claimed to not remember that very meeting.
Xbox lies, PlayStation lies. Xbox abuses power, PlayStation abuses power. Xbox is trying to grab way too much more power, and I've lost all respect for the Federal Trade Commission because the only real threat to Xbox's power grabbing here has been achieved by PlayStation abusing power, writing regulators' playbooks for them at the expense of the actual quality and consistency of their case. All of Xbox's worst moves are tit for tat with PlayStation's own aggression and control, and that should never be forgotten, but at the end of the day only the former has a parent company with the money to spend the other out of business. Only Xbox can afford to have a staggering terrifying (yet still incomplete) list of potential acquisitions like this: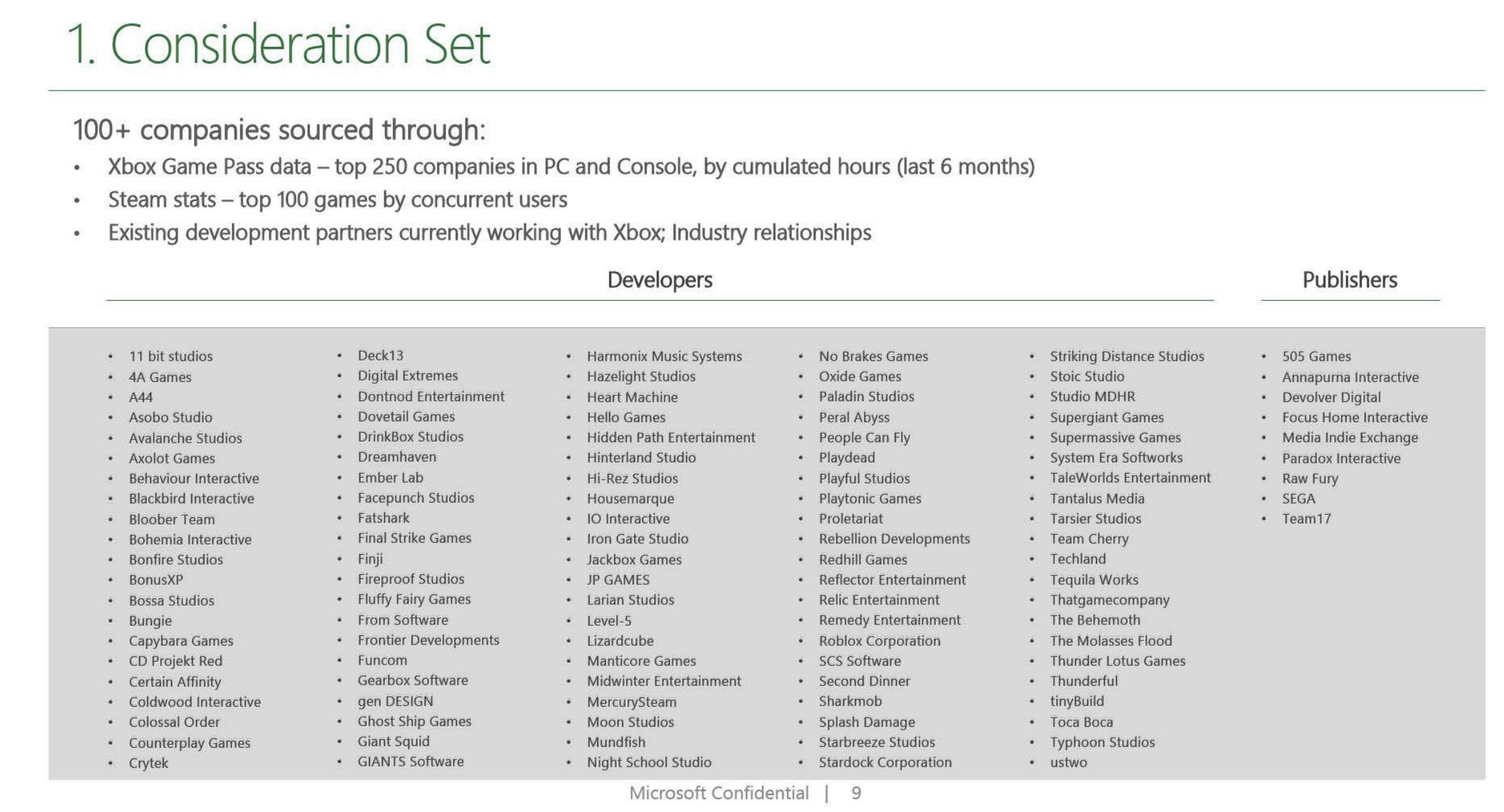 Though journalistically I should note that this list was ultimately whittled down to less than 10 to seriously pursue, that's still too many! And it included going for Sega literally while Bethesda was still being approved!
There are no good guy corporations, period, and with how pliable regulators' morals clearly are, with how corporate power is corporate power's only threat here, Xbox's potential loss here would not prevent further power consolidation or abuse within the industry afterwards. Break up all the publishers. Break the industry. Break the system. Good day.
---
A whole lot of time and effort goes into making my work here possible. Please show your support however you can to help keep this going, whether that means sharing these articles wherever and to whomever there might be interest, or for those able to, donating to my Patreon dedicated specifically to these writings, which is linked here: https://www.patreon.com/lilytina
Thank you to Marcus TAC, Katie, Brakeman, Jarathen, Sloot, Ninjaneer, Prestidigitis, Frosst, AJ, Nemrex, Stasia, Belladonna, Suoly, Professor, Alanna, Dashboard, Monsoon, CMC, and everyone else among them for your personal and financial support of this project. Thank you everyone for your reading!