Welcome to Wrestling Wrecap, a column focused on discussing and dissecting the week in pro wrestling.
Wrestlemania weekend is finally here! After what felt like an eternity of buildup we have yet again made it to the biggest weekend in wrestling. As always, there are tons of shows going on this weekend, but there are three major ones and I'll talk about them at length later on. First though, lets see how WWE handled the "go-home" show.
Traditionally, the "go-home" episode is the last one prior to a Pay-Per-View or event, meant to entice the viewer into watching the show that Sunday. Naturally, the biggest event of the year should also have the biggest "go-home." This is a practice that gave us memories like Austin driving a beer truck to the ring. However, as WWE became the only game in town, and their brand synonymous with the genre, their "go-home" shows have become less and less interesting. As it turns out, there's no real need to hook you on a event that you're definitely going to watch.
All of this is a roundabout way of saying that both Raw and Smackdown produced underwhelming final shows before 'Mania. Smackdown fared slightly better, mainly because it didn't have the gall to give us a main event of Baron Corbin vs Rey Mysterio, but both shows felt like they were running out of ideas before the big event. Case in point, whatever the hell happened between Ronda, Charlotte and Becky.
The three squashed the Riot Squad only to fight with each other which in turn led to each of them being arrested. Because all cops are stupid in wrestling, they loaded Becky and Ronda in the same car and it somehow ended with a broken window and a handcuffed Rousey trying to drive the car. It is a segment that must be seen to be truly appreciated. Did it get me excited for their match? Not really, but it was the most interesting thing on a dull Raw so, that counts for something.
Taking Over Fridays
The past three years have seen Wrestlemania overshadowed by NXT Takeover, a consistent problem with WWE programming that doesn't actually affect their bottom line and therefore, does not matter. This year finds Takeover moved to Friday so as to not compete with the ROH/NJPW show. Regardless, it still looks like NXT might steal the weekend again with a head-to-toe stacked card.
NXT Tag Team Champions War Raiders (Hanson & Rowe) vs Aleister Black & Ricochet
Black and Ricochet are currently the only talent pulling double duty on this and Wrestlemania. The duo won the Dusty Classic and earned a shot at the champs. This should be a hard-hitting spectacle and expect Ricochet to do something wild while the Raiders show off their impressive agility. In the end, one of these teams is on the main roster and another is not. The one sticking around should win. Winners: War Raiders
WWE United Kingdom Champion Pete Dunne vs WALTER

This might just steal the show. WALTER has yet to really showcase what he can do in the ring and Dunne is the perfect opponent to do that with. I expect this to be a brutal match with the bigger man coming out on top and ending the longest reigning champion in WWE right now. Winner: WALTER
For the vacant NXT Championship: Johnny Gargano vs Adam Cole
Originally scheduled to be the blowoff to the, long simmering, Gargano/Ciampa feud, Ciampa was forced to vacate the title due to injury and Cole earned his shot. While this match will likely deliver it probably won't hit the emotional highs I was expecting from the former match. Not to mention that Johnny is still the same guy who attacked a dude backstage to get him out of the way for his championship shot. That he hasn't reckoned with those actions is disappointing. Still, I'll be cheering when he holds the title over his head finally. Winner: Johnny Gargano
NXT North American Champion Velveteen Dream vs Matt Riddle
This match is a little tougher to predict, mainly because Dream just won the title. Plus, either man could easily lose and move up to challenging for the NXT title. I'm going with Riddle taking the belt so that Dream can get that main event feud he deserves. Winner: Matt Riddle
NXT Women's Champion Shayna Baszler vs Io Shirai vs Bianca Belair vs Kairi Sane
This is the least exciting match on the card and I'm still very hyped for it. That should tell you all you need to know about how well NXT books these Takeover events. Of the four women, Shirai and Baszler have the most chance of winning and it's just a question of whether it is time for Shayna to leave. More importantly, is it time for Duke and Shafir to follow up with her. I suspect the answer is a reluctant "yes." Winner: Io Shirai
History at the Garden
For the first time in over 60 years a company other than WWE will be holding a show in Madison Square Garden. When it was first announced last year, the show was seen as the continuation of the immensely successful All In and it was expected to feature the Elite. Now, the only member still around is Marty Scurll and the event has lost a measure of star power due to it. Even with those losses though the card is shaping up to be stellar…well, the NJPW portion anyway.
Honor Rumble
This is the pre-show warm-up battle royal and it should be a fun time. As of this writing only 11 of the 30 competitors has been named which means there is room for plenty of surprise entrants. One announced name sticks out though: Jushin Thunder Liger. The legend recently announced his plans to retire at Wrestle Kingdom next year and there is no better way to start off his retirement tour than with a win at the Garden. Winner: Jushin Thunder Liger
Winner Takes All: NEVER Openweight Champion Will Ospreay vs ROH TV Champion Jeff Cobb
One of two winner takes all bouts on the card, this one looks to be an excellent mash of different styles. Ospreay has been making a name for himself as a giant killer as of late and while Cobb isn't a giant he is a Big Strong Boy and might prove too much for Ospreay. Cobb is everything NJPW wanted Michael Elgin to be, while also not being a huge piece of trash. I expect him to take home both belts here. Winner: Jeff Cobb
Rush vs Dalton Castle
Castle has been struggling to make much headway lately and that has played into his story. I expect him to lose again here and potentially snap and move into a more interesting direction. Winner: Rush
Women of Honor Champion Mayu Iwatani vs Kelly Klein
This division is a complete joke. I try to avoid speaking so harshly in these articles, but the WOH concept has been around for almost four years and nothing has come from it. Even putting the belt on a world-class performer like Iwatani has done nothing for it. I fully expect her to lose it back to Klein and for this division to continue to mean nothing. Winner: Kelly Klein
New York Street Fight: Bully Ray vs Juice Robinson
Originally, this was rumored to be an open challenge answered by a returning Flip Gordon, but Flip got injured and had to pull out. Instead, Juice has answered the challenge. This should be an okay match, but Bully is beyond boring at this point. Winner: Juice Robinson
IWGP Junior Heavyweight Champion Taiji Ishimori vs Dragon Lee vs Bandido
We have a certified banger alert on this one. Ishimori hasn't had the chance to unleash yet in his reign and this looks like the perfect opportunity. Lee is always incredible to see and Bandido is one of the best up and coming luchadors out there. With Hiromu expected to return soon I could see Dragon Lee getting a chance with the belt, but I think Taiji holds onto it a little longer. Winner: Taiji Ishimori
Winner Takes All: IWGP Tag Team Champions Guerrillas of Destiny (Tama Tonga & Tanga Loa) vs ROH Tag Team Champions Villain Enterprises (PCO & Brody King) vs Los Ingobernables de Japon (Evil & Sanada) vs The Briscoe Brothers (Jay and Mark Briscoe)
At first, this was a simple bout between G.O.D. and the Briscoes for their belts before the brothers lost to the fresh team of Villain Enterprises. Since then, the former champions of each belt have been added to the match. This honestly looks to be a fun cluster and I'm excited to see PCO back in the Garden and killing it at 50. Still, I think New Japan makes up for a "ROH guy" winning their belt earlier. Winners: Guerrillas of Destiny
British Heavyweight Champion Zack Sabre Jr. vs Hiroshi Tanahashi
One of two rematches from the New Japan Cup, this one pits the technical wizard, Sabre, against the Ace, Tanahashi. This is a bit of a tough one to predict as Tana is Teflon and doesn't need to win, but could still get one to say he has won in MSG. At the end, I'm going with my gut and Sabre makes the Ace pass out. Winner: Zach Sabre Jr
IWGP Intercontinental Champion Tetsuya Naito vs Kota Ibushi
The second rematch from the New Japan Cup finds Naito looking to redeem himself from his loss in the first round. Ibushi was a favorite to win the cup before getting dropped in the second round to Sabre. Both men could really use the win here, but I expect bigger things in store for Naito this year. Let him lose here and move on to his destiny and the Heavyweight title. Winner: Kota Ibushi
Ladder Match: ROH World Champion Jay Lethal vs Marty Scurll vs Matt Taven
Lethal vs Scurll was the original match until Taven and Lethal wrestled to a draw at the Anniversary Show. I want to see what ROH sees in Taven, but to me he is just bland, like a stale piece of white bread. That said, the company is behind him and Lethal needs to drop the belt. Marty should win, but at this point they're just waiting for him to leave. Winner: Matt Taven
IWGP Heavyweight Champion Jay White vs Kazuchika Okada
Jay White has stepped up since winning the title from Tana back in February, but his reign is still seen as a bit too soon for some. Still, going against Okada in the main event at the Garden is a big deal. Okada has already lost twice to White and third time is typically the charm in New Japan. Plus, something just feels right about seeing the Rainmaker back with the gold in Madison Square Garden. Winner: Kazuchika Okada
The Granddaddy of Them All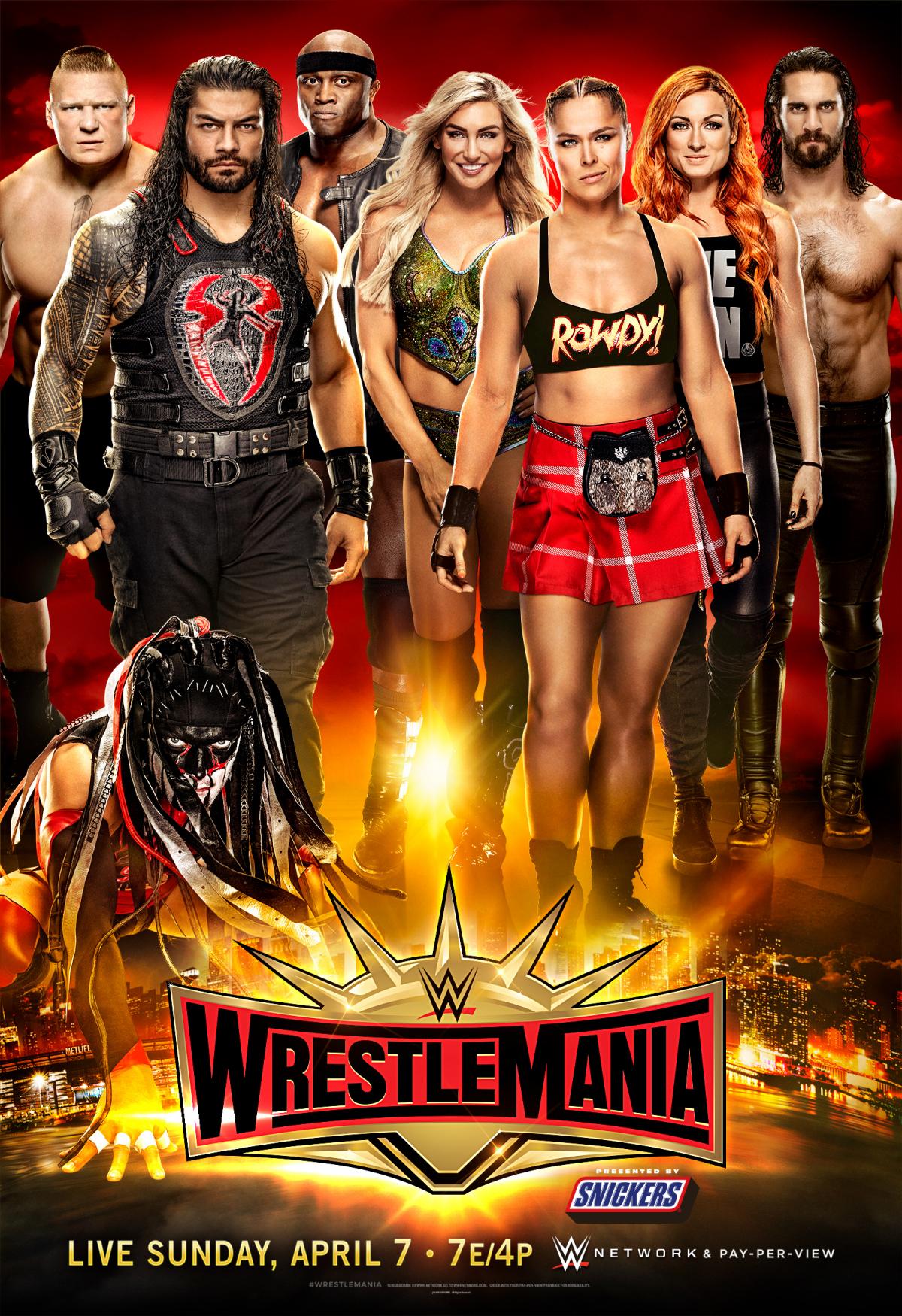 For the first time in 35 years, Wrestlemania will be headlined by a women's match and there's no denying that that is still a pretty big deal. There is only one other match on the card that rivals the hype for the Triple Threat, despite WWE's poor booking. Compared to the previous three 'Manias, this one has a number of matches that, on paper, should be good to great. It is also tied with Wrestlemaina 4 for biggest set of matches, with a staggering 16 currently set. So, buckle up for a long ride.
Women's Battle Royal
As of right now there are only 13 entrants announced for this pre-show battle royal. So, expect some surprises in the mix. There is of course, one name on here that stands above the rest in Asuka. It really is a disgrace that she has been relegated to the pre-show, but I figure WWE tries to make good by having her win here. Winner: Asuka
WWE Cruiserweight Champion Buddy Murphy vs Tony Nese
I expect this match to air first on the pre-show, which is a shame for both of these men to have to perform in front of half of the Wrestlemania crowd. Nese has had a good build to this opportunity and I could see them giving him a run with the belt. That said, Murphy is very close to breaking the record for longest reign and I think he holds on to the title until he does. Winner: Buddy Murphy
Andre the Giant Memorial Battle Royal
WWE went through the effort of getting Michael Che and Colin Jost to actually join the match and waste airtime only to still stick this on the pre-show. Braun is the biggest name on the list of competitors, but since he is consistently portrayed as a dummy who can't win in big situations, I suspect he gets thrown out after dealing with the Weekend Update crew. I'll give it to someone from the blue brand instead. Winner: (Mustafa) Ali
WWE Raw Tag Team Champions The Revival (Scott Dawson & Dash Wilder) vs Curt Hawkins & Zach Ryder
This match has literally no build to it. This past Monday saw the Revival fighting with Ricochet and Black, who are inexplicably in the other tag team bout. This should be okay, but probably get the shaft on time. I expect the Broskis to get a good moment and Hawkins to finally snap his losing streak. Winners: Curt Hawkins & Zach Ryder
WWE Smackdown Tag Team Champions The Usos (Jey & Jimmy Uso) vs Aleister Black & Ricochet vs The Bar (Sheamus & Cesaro) vs Shinsuke Nakamura & Rusev
I like that the Hardys came back and immediately got relegated to the battle royal. This should be another fun cluster of a match. Any of these teams could easily win here, but I'm gonna go with Nakamura and Rusev getting a shock victory. Winners: Shinsuke Nakamura & Rusev
WWE Champion Daniel Bryan vs Kofi Kingston
This is the only other match on the card that could rival the main event for crowd reaction. Bryan has played his role masterfully and Kofi is beloved to the point where him losing would crush the crowd. Kind of funny that we're in a place where Daniel Bryan winning a Wrestlemania match would upset the crowd. I'm going to trust that WWE isn't going to give us another Booker T scenario. Winner: Kofi Kingston
WWE Women's Tag Team Champions The Boss 'n' Hug Connection (Sasha Banks & Bayley) vs Beth Phoenix & Natalya vs The IIconics (Billie Kay & Peyton Royce) vs Nia Jax & Tamina
This is the other big cluster match. I'm excited to see Beth back in the ring and I'm hoping she can get something good out of Nia. This match comes down to how much WWE wants a Horsewomen moment at the end of the show and I think they want it pretty bad. Winners: The Boss 'n' Hug Connection
Roman Reigns vs Drew McIntyre 
This is Roman's first singles match since returning and while I want it to be a slugfest, I'm not sure how ready Reigns is for that type of match yet. Still, I expect this to be a good match with the Big Dog winning and showing he is officially back. Winner: Roman Reigns
WWE Intercontinental Champion Bobby Lashley vs Finn Balor
Balor has already announced that he is bringing out the Demon for this match. Which is exciting, if you ignore that this is the same match we've seen in some form for almost five months now. The only difference this time will be Finn is wearing face paint. Winner: Finn Balor
WWE United States Champion Samoa Joe vs Rey Mysterio
This match was sort of just thrown together as Rey was feuding with Andrade and then, just landed into this match. This should actually be a fun clash of styles and could be really special if given some time. Winner: Samoa Joe
AJ Styles vs Randy Orton
I have no reason to be as hyped for this match as I am. Kudos to both men for really killing it in their promos together because now I want to see how this plays out. Expect at least one awesome RKO spot and an equally cool Flying Elbow one. Winner: AJ Styles
Falls Count Anywhere: Shane McMahon vs The Miz
Shane's heel turn has been surprisingly okay and The Miz has crushed it as a face. This could go either way but Shane should not be winning feuds so, I'm giving it to Miz. Winner: The Miz
Kurt Angle's Farewell Match: Kurt Angle vs Baron Corbin
And now comes the piss break match. This is such a poor choice for Kurt's final match that I'm still expecting Cena to come out and have the real final match. Assuming that doesn't happen, look for Corbin to win here and boast ad nauseam about retiring Angle. Winner: Baron Corbin
No Holds Barred: Triple H vs Batista
If Trips loses this match, he will retire, which should clue you in as to who is winning. Especially considering one of these men is a Hollywood movie star who has much bigger things to be doing. This is suppose to be Batista's last match regardless of the outcome so, I'm hoping we get a decent contest from this. Winner: Triple H
WWE Universal Champion Brock Lesnar vs Seth Rollins
I know this isn't a new point but I'm sick of Lesnar having this title. While I'm skeptical of WWE's ability to have its three marquee matches all end with the winners that would make the crowd happiest, they are currently trying to entice people back to them due to low ratings. I say Seth wins it to show that they really are "changing." Winner: Seth Rollins
Winner Takes All: WWE Raw Women's Champion Ronda Rousey vs WWE Smackdown Women's Champion Charlotte Flair vs Becky Lynch
This has been one of the most convoluted builds to a match in recent memory but we're finally here. WWE is banking on you thinking the worst of them here by having you think they'd give the belts to anyone but Becky. It would be foolish to do that, which means it is still in the realm of possibility. As with the Universal title match though, I expect them to be looking to entice viewers and The Man is the best way to do it. Plus, I just love the closing shot of Becky holding two titles, while Sasha and Bayley celebrate with her and Charlotte seethes in the corner. Winner: Becky Lynch
If you made it down here, thanks for reading!Tell me what you thought about this week's events in wrestling in the comments and, as always, any feedback is appreciated. Cheers