It did not come home, it was a great effort and in retrospective the English kids overachieved, but then the worst thing happened: they gave their country hope. Goodbye "It's Coming Home" memes, we'll see you in the next Euro.
Only two matches left and only one of those meaningful, here's our final bracket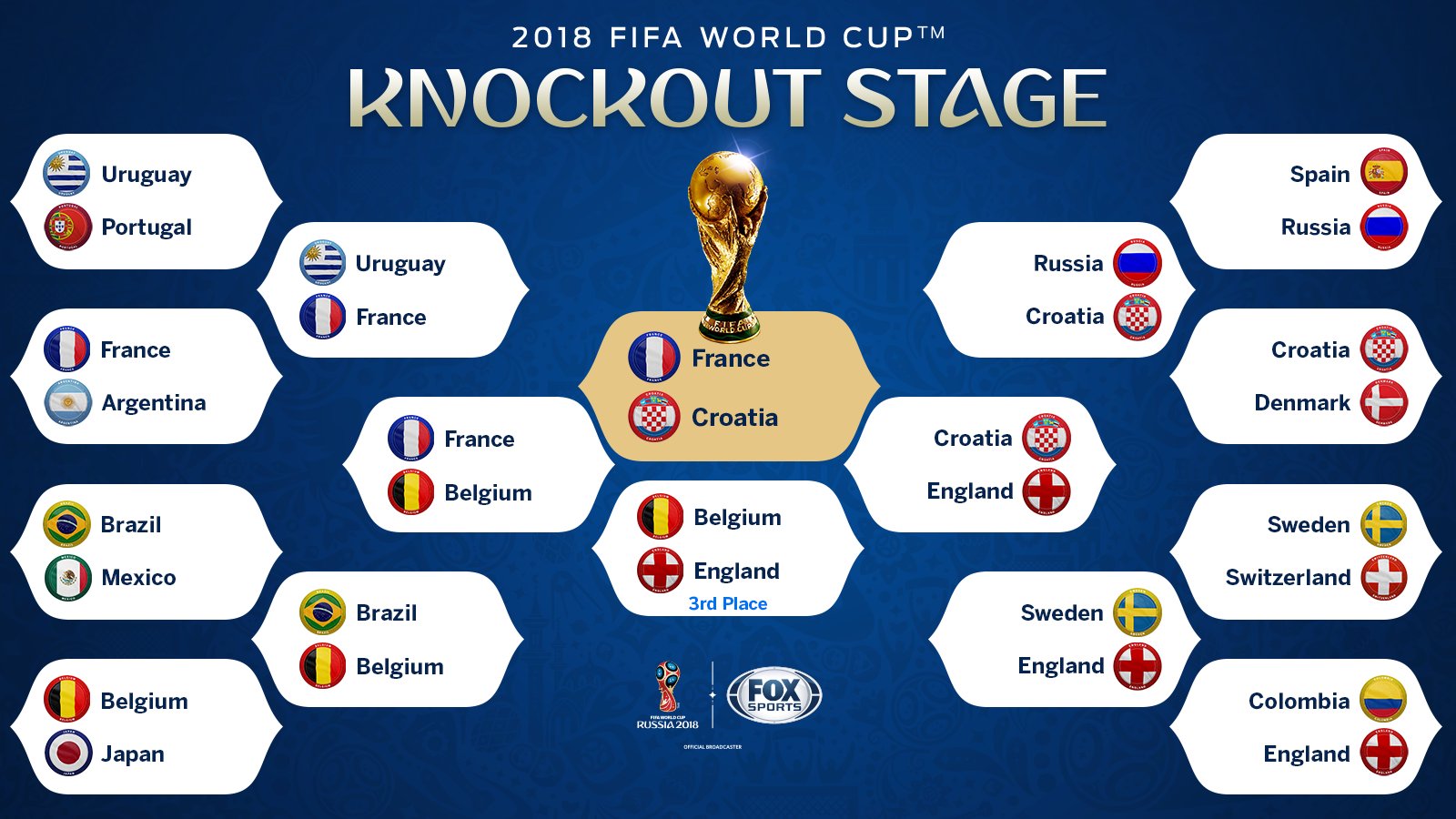 Day 1 (7/14) Third Place match: Belgium v England
Didn't we play this already? Would they use the subs again? Probably, at least we'll most likely see some goals. The last three third place games have had at least 3 goals and they tend to be more open affairs for obvious reasons. Kane could clinch the Golden Boot and that's pretty much it, think of it as a farewell to two teams that gave their all
Day 2 (7/15) Final: Croatia v France
A lot of people had France as one of the top four candidates for the cup, but who had Croatia? A team that is super stacked in midfield, always a dark horse candidate but that historically doesn't live to the expectations. This time they did it, they have fought tooth and nail, playing three 120 minute matches in a row. In particular Modric has looked great, maybe he's giving his all as a swan song before he goes to jail. They have been down and they have recovered, they have won in penalties, they are resilient. Hell, even their keeper has been superb.
In front they have a young French team that has passed all their hurdles without much problem: they manhandled Argentina and Uruguay and were able to contain Belgium (and could have won with a bigger margin if not for Giroud's efforts). Lloris, Varane, Pogba and Griezmann have been solid but the revelation not only of the team but of the cup, Mbappe, has been spectacular. He seems to be playing the turbo version of the game, he still shows his age with some questionable attitudes, but that can be fixed with time. Midfield battle will be crucial, losing a ball there recklessly, specially by Croatia, could change the whole game. Let's hope for a great game… even if I have to watch it at freaking 8 AM